History
Near downtown Austin, along I-35's northbound upper deck sits the Austin Today Daily Marquee Billboard. This billboard literally faces the UT football practice fields and the majority of the campus. Illuminated at night, it attracts over 100,000 viewers with its 24-hours messages. This made it an ideal vehicle for an idea . . .a way to send a message to Longhorn fans and students as they made the drive up to Dallas for the annual Red River Shootout. . .
This brilliant idea arose from the ashes in 2003, when Rick Akin attended our Annual Football Kick Off Dinner at downtown Austin's Pok-e-Jo's restaurant. Rick (along with his wife Jennifer) is the founding father of our club, and for six-or-so years served as our first club president. He told us some great stories about when our club posted messages on this very same billboard for several years back (late 80s/early 90s). However, some UT alumni got tired of its fun-poking messages and bought up those pre-game Fridays (in fact, for the whole pre-game week) indefinitely! In 2003 we discovered the billboard had changed ownership, so we got it back also indefinitely!!
2003 Billboard
The first billboard came from the club Board of Directors and proved rather prophetic. OU routed their pitiful Texas opponents 65-13 - the worst defeat by either team since the last time we did we did it, in 2000.
The OU Club of Austin received a great amount of media attention on the posting, mainly from local TV stations who came out to report on it in their Friday-before-the-Red River Shootout coverage.
In 2004, to ensure we post the best possible message, the board decided to turn the task into an everyone-can-contribute contest with nice OU Souvenir Prizes to the authors of the top three winning messages selected (1st, 2nd & 3rd).
The end result was some of the best captions, some rather prickly, others just damn funny.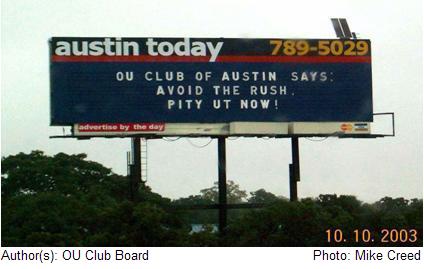 2004 Billboard
We skunked them 12-0, and Mack Brown was toasted un-Royally! On each occasion the "Austin Whine Festival" began anew, lasting well into November. Sweet!!